News
June 13,2013
Simply put, the fishing is hot on Jan Lake this season! Returnees keep commenting that this is one of their best years yet. The fish must be hungry as lake levels are low. For this reason, use caution out there; watch for rocks and reefs!
June 3, 2013
The sun is shining and the fish are biting! Lower lake levels and late ice-off have attributed to fantastic fishing conditions right now. Walleye and Pike are biting down at Harper's, over in the Narrows, and right off of Dock number 5. McMillan Point is coming up a lot in conversation; some nice walleye being caught in the area, as well as many bear sightings. What are they biting on? Nothing fancy; pink jig, white double-tail. Minnows and crawlers are working well.
We haven't had any rain yet this season, regardless everything is in bloom. Nights have been cool, mornings have been calm. Daytime temps have been in the low twenties.
***NEW!!*** We've got a new addition to our rental fleet! For $330/day our 20' Harris Pontoon is decked out for fishing in comfort with swivel seats, rod holders, depth finder, and live well.
May 19, 2013
Ice went off the bay May 14 th… thank goodness… we were getting tired of looking at it day after day! It's not completely off the big lake yet, but it is possible to travel up the North shore as well as around Schweitzer and in among the islands. Another couple of days and we'll have access to Harper's where the Walleye are delicious!
Weather has been gorgeous over the last couple of days. Trees are budding out and the Cranes are flocking overhead. Lots of fish in the bay, amazing northern light shows at night, Loon calls echoing across the water.
May 7, 2013
Spring is taking hold slowly but surely. Temperatures have been in the twenties for three days now. We have been enjoying blue skies and hot sun; today the wind has picked up slightly. That's the good news... sadly we still have a rather thick slab of ice sitting out front of the camp. With eight days left till the season opens, we'll be honest, it is going to be tight. From what we hear Jan is doing better than a lot of the southern lakes. It is totally possible for the ice to be gone if the weather holds. We have not been freezing at night and there is some open water appearing around the shoreline.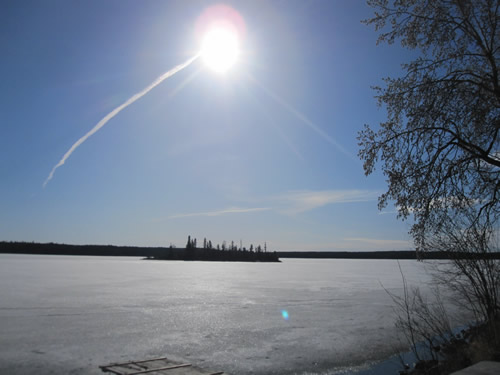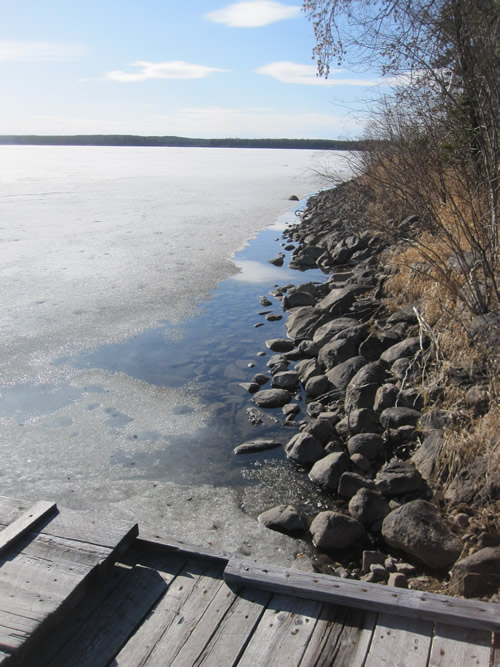 April 1, 2013
Good day! Spring is in the air! Time to dig out your tackle box and fishing rod to be sure everything is in order. Before you know it, you'll be headed north; destination Jan Lake. You know that 30 pound Northern Pike of your dreams? (we call her Jan Lake Janice) She'll be lolling about just waiting for a tasty morsel of bait to drop in front of her this spring…then you'll have a fight on your hands!
Reeling in that feisty, glittering, perfectly plump 20 inch Walleye will start your mouth watering for shore lunch. The cold, clear water of Jan Lake produces gourmet fillets second to none. Ask us about our shore lunch kit which contains everything you need to enjoy a rustic meal on the rocks.
Excitement abounds as we prepare to head back up to the lake and open camp. Mid-March, we spent a week in Edmonton promoting Three Lakes Camp amidst the crowds at the Boat & Sportsmen's Show. Can't thank Doug & Mariette enough for their hospitality! Back in Saskatoon now, we are still taking last-minute bookings, and gathering supplies for our list of spring jobs!
**Important change for 2013**
Please be advised that we will not be selling fishing licences in camp this year. Check out the vendor listing or purchase online at http://www.environment.gov.sk.ca/licences/ or by phone at 1-855-848-4773 starting April 1 st.
March 5, 2013
Saskatoon Sport & Leisure Show, 2013
Thanks again to the folks at the Wildlife Federation… another fantastic show! Thanks to all who stopped by the booth to check out our camp. Three Lakes has been catering to fishermen and their families for over 50 years. Manning the booth all weekend we are presented with a veritable snapshot of the camp's history. We've heard stories about the building of the Hansen Lake highway, school field trips to Pelican Narrows, canoe adventures through the Churchill water system. Fish stories big and small! (Told by those young and old!) Some stop by to trace the route to their favorite fishing hole on our map, others lean in close hoping to glean a few secrets!
We are always on the ready for your stories and photos. If you've got a moment on Jan that you'd like to share then let us know.
January 2013
Hello all, hope everyone is enjoying their winter. What's not to love about shoveling the sidewalk every second day, and trying to maneuver your vehicle in the snowy street ruts? At least that's been our experience in Saskatoon over the last month or two! Things are looking up though, as we will be attending the awesome Saskatoon Sports & Leisure Show at Prairieland Park February 28 th to March 3 rd. We love hanging around in our booth all weekend visiting with friends and promoting the camp. We will also be present at the Edmonton Boat & Sportsmen's Show at Northlands/Expo Centre March 14 th to 17 th. Come on out and say hi!
So if deep freeze temperatures and overcast skies are getting you down lately, take a moment, close your eyes, and envision that perfect moment on Jan Lake. Remember that thrill of revving up the boat motor and sailing around Lou's Point, weaving through the islands, and reaching the entrance to the big lake. Sunlight reflecting diamonds on the water as you head for your favorite fishing hole. Drop a line, and slowly start to unwind as you drink in the astonishing scenery that surrounds you. Now we've got you thinking!
We are in the process of collecting deposits for the 2013 season. If Jasmine hasn't been in contact with you yet, you can give her a call to confirm dates, or just chat about the weather! We can also be reached by email.
July 17, 2012
Here is our mid season summary! We have been really caught up with our facebook business page (facebook.com/threelakescamp) and as such, have not been updating the news page as much as we should!!
The Fishing
It has been a phenomenal season for walleye and pike. Many have commented that this year has been their best fishing on Jan yet. Though they may have been harder to find there were some trophy sized pike caught fairly early in the spring. The fish spread out all over the lake quite early as compared to previous years with walleye coming out of Otter Narrows as early as the end of May. Another peculiarity was that, despite the heat, walleye were still being caught in the shallows. Fishing in five feet of water at the south end of Harpers Island was still popular and successful into July. Not exactly where we would advise the July
fisherman to go but what do we know anyway.
One group we had early in the season brought in more perch than we normally see all year but despite much interrogation would not reveal their secret perch hole or techniques. This mystery spot has since been dubbed the black hole and is open to interpretation as to its whereabouts.
The fishing off the dock has been notable this year with a regular gathering on the camp docks
and downright competitive atmosphere on the government dock. Lots of walleye caught right close to home with unconfirmed reports of a 14lb walleye being caught off the government dock. As one who sells gas I still maintain that the only fish on this lake are 14 miles away at the second narrows and all these fish being caught in the bay are just isolated flukes.
Overall fishing has had very few "slow" days. This kind of fits with what we have seen following high water years. We fully expect this to continue into the fall season.
The Fires !!!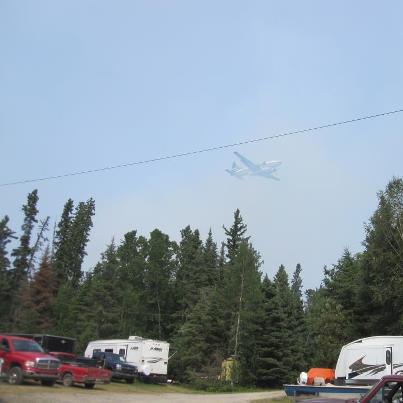 We lost a small un-named island North of Schwitzer Island last week due to fire. Cause is unconfirmed however there was a firepit spotted on the rocks; likely a shorelunch was cooked, and the firepit did not get properly doused. Add to the excitement, a forest fire that flared up just behind our camp on the same day around noon. Thanks to the rapid response of many in the Jan Lake Community, of the water bombers from La Ronge Airbase, and of firecrews out of Pelican Narrows and Deschambeault, the threat was quickly under control. The heat wave has abated somewhat, however ther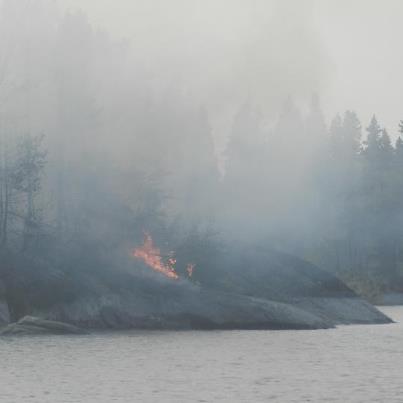 e doesn't look to be any decent rainfall in the forecast. Best place to be right now is out on the lake bobbing around in a boat, nice breeze blowing from the West.... "wind from the West, fish bite best"!!
The Fun
This year, the fireworks show off our docks in celebration of Canada Day was second to none. Thanks to the Corbeil/Powers gang, the Hufnagel family, and the Ukranian connection for your generous contributions! Too much firepower to be set off near the boats we loaded a barge and launched from out on the water. Didn't see much myself as I was on the lighting crew but I am told it was quite spectacular.
(Thanks Gary for the Photos)
Can't really speak for the guest but from a staff perspective this has been a really fun year. It reminds me of when I was working up here for George. Lots of adventures and funny stories. Even after the stress of the fires you'll find yourself saying "holy cow what a rush!!!"
At the risk that they might read this I have to say that we really have an all-star staff this year. Cole, Richard, Stuart, Brenda, and Kailey have been outstanding and Jasmine and I are truly grateful. Also Cam was a big help this spring. A big thanks to our volunteers Garry, Darlene, Bernie, Tania, and Mike.
May 27, 2012
Finally some shorts-and-tee-shirt weather!! Just had to take some time this afternoon to sit on the deck and soak up some sun.
Fishing is awesome up here! The Mulligan/Ryckman crew from Colorado reported catching upwards of seventy walleye per boat during their first day down by Harpers, some of which they kept and ate for their shorelunch. Doug and Joe from Edmonton caught and released the fish of a lifetime in the Narrows yesterday. Check out a photo of this 47" long monster pike on our facebook page. There must be a school or two hanging out in the bay, as fishing off the end of the docks has become an engaging evening pastime even after spending the whole day out on the lake!
Friends Jim & Terry from New Mexico brought up the paint, paper, and rollers for us to try a technique called "Fish-rubbing". We temporarily turned the fish plant into an artist's studio and made several unique walleye prints. Of course the paint was water-soluble so we didn't ruin anyone's fish dinner.
Speaking of fish dinners… here is a fantastic Chowder recipe from Tania's cabin kitchen (Ryan's Mom!):
3 cups diced potatoes
1 cup diced carrots
1 ½ cups diced onion
Barely cover with water and boil til ALMOST cooked.
2 – 3 cups diced DEAD jackfish
Add to veggies and cook 3 – 4 minutes.
1 cup milk
2 tbsp cornstarch
Add to thicken.
1/3 cup butter
Add.
Parsley to taste
Pepper to taste
2 – 3 tsp in total of garlic salt, onion salt, and salt, or to taste!
May 18, 2012
Good day! Harper's Island was the place to be this morning. Bit of a rough ride across the big lake, but it wouldn't be May Long Weekend without some blustery weather. First anglers of the season were reeling them in under overcast skies. The old stand-bys were working great; chartreuse jig with minnow or red & white spoon. Lots of Pike ten pounds and better. Feisty little Walleye kept us busy with the pliers.
The Birch and Poplar are just starting to leaf out adding color to the lakeshore. Have been getting drizzle for the last couple of days, and with more precipitation forecast, there is currently no fire ban.
Have had a couple of delicious fish feeds since opening thanks to our dedicated staff who love to get out on the water in their free time.
FYI: We've had a cancellation for June 3 rd -9 th (waterfront cabin), and still have availability for the week of June 25 th.
May 9, 2012
Ice off the bay! We can safely say I lost the pool as the ice was officially off the bay yesterday. We were able to put some boats in the water and motor out to the edge of the main lake. Still ice there but it is really rotten. I am quite sure we'll be fishing Harper's Island by opening. Frequent updates can be found on the facebook feed.
The last of our staff arrived yesterday and we have been working steady for about a week. Spring projects this year are mostly down on the marina building up boardwalk that was underwater last year.
In other notable news we will be carrying premium fuel this year. We have limited availability for the May long and still have some openings for the week of May 21st.
March 13, 2012
It's March already! The weather is gorgeous… time to come out of hibernation! We attended the Sport & Leisure Show in Saskatoon last weekend and it really got the "lake- bug" stirring. It was an absolutely outstanding turn-out for the show. We understand they broke all kinds of attendance records. Jan Lake is well-loved… it showed as we struggled not to lose our voices visiting with eager fishermen and their families. It's so good to see lots of familiar faces; thanks to those who stopped by the booth to say "hi".
We were talking extensively with the various outfitters, ice-fishermen and snowmobilers. The word is that although there may be a fair bit of snow up North, the ice on many of the lakes is not overly thick. In some reports, it's barely safe enough to drive on. If this is indeed the case, and this weather keeps up, we could be looking at an early ice-off. Keep your fingers crossed, and be sure to keep checking our website and facebook page; we will keep posting the ice status. Fishing season opens on the 15 th of May… if the ice is out we'll be out fishing; come on up and join us!
We are on our way to Edmonton today to set up for the Edmonton Boat and Sportsmen's Show. If you're in the area we'd love to see ya.
September 25, 2011
You would not believe the weather we have been getting this weekend. Imagine a hot July day with everyone in shorts. Yesterday the water was mirror calm all day, sun was shinning, not a cloud in the sky, very much in contrast to the autumn leaves on the trees. We even had a few guys decide to do some swimming although I am not sure it was their intention. I was very impressed at the walleye that came in yesterday. Lots of really nice fat fish!
September 23, 2011
Mist and Loons
Woke up at 6 this morning, stumbled out to the coffee pot and poured a travel mug. Coffee in hand, destination: the end of Dock #2. Tried to step lightly so as not to disturb the glorious silence. Standing at the end of the dock with the camp behind my back, it was easy to imagine I was alone with the loons. Every so often a fish jumped. Mist slowly rose off the far end of the bay. The sky turned purple and pink as the sun started to rise, and the moon was still visible. Sky brightened to blue as we started the motors and the first of the private boats left dock.
September Musings
A special thanks goes out to Andrew who brought along his bagpipes for his week long stay in camp. Imagine the calmest late night, moon and stars lighting the bay. There we stood on the big deck atop the boathouse enjoying our very own bagpipe concert. A fitting salute to the beautiful Jan Lake.
And a note about our most friendly of guests; Fred the pelican; may he rest in peace… we've learned that pelicans have a very picky palate indeed. They do not go for bread crumbs or even chocolate zucchini muffins. Like the rest of us, it must be fish… and freshly caught!
Fishing as of late has been steady to say the least. First part of this week was incredibly windy, with gusts up to 20km/hr out of the South. Walleye were taking it easy during that time, but as the winds have settled down, some nice Walleye coming in. Those fantastic Northerns… fantastic because they can be caught anytime, anywhere! The Narrows is still a popular spot to set adrift lately. Not having had a good frost yet up here, the black flies have been incredibly bad. Not so much out on the water we've been told, but back in the yard and in the bush where we are working, they are a bother.
Despite the flies, the weather is beautiful. While the sun is shining, we've got no complaints! Thank you so much to all of you who made it up to the lake again. We are thrilled each time we get a response to our news postings or facebook messages, and we plan on keeping in touch over the fall and winter.
August 5, 2011
Life is good – if you're a duck.
August at Three Lakes has us all suffering from a serious case of déjà-vu. Once again the lake is striving to reach new heights. Water levels aren't quite as high as 2005… yet. But unfortunately, our boathouse and certain dock areas are "rubber-boot-zones". The guys have been working hard, and have succeeded in raising the boardwalk along the waterfront, as well as several of the jetties. Our resident family of ducks is having a hey-day in all this!
Fishing has been centered in the second narrows. With all the water coming out of Deschambault the current has been very strong and fish seem to be very active. A little slower on the rest of the lake but a few boats did very well by following bait fish to windward facing shorelines.
We have had a string of sunny days ranging in the 20-25 degree mark lately, as well as night rains. Wonderful berry and mushroom picking weather. Bugs for the most part have settled down also. Perfect time to drop a line in the water, or kick back with a book.
We at Three Lakes Camp "fish" you were here!
July 15, 2011
The first part of July has literally "blown" by! Lots of windy days, and finally some rain as well. Water levels are very much on the rise with waves lapping just under the boathouse again. The fish flies hatched a few weeks ago, carpeting the lake surface for a few days.
We have been so busy, July has felt more like June, but busy is definitely good! Had a wicked storm last night that gave the docks a good rock, power in half the community was down for most of the day. Weather has been incredibly hot and humid. We've got a rainfall warning on for tonight, and then things are supposed to cool down for the rest of the week
Water temperatures have risen as high as 20 degrees C (69 degrees Fahrenheit). The rig of choice has been mostly bottom bouncers with nightcrawlers. Some very nice catch and release specimens caught on camera, as well as lots of nice eater-size coming in on dock.
Once again, the Canada Day fireworks show was a hit. Many great displays both private and from the community. Thanks to Joe for an awesome display of his own off our docks.
We had a bear nosing around for about a week but he made one to many trips for his own good and had to be put down. This was one of the first appearances of bears since the fire in 2005. With so many bears out at the dump it is a fairly uncommon sight to see them in the community.
Check out the album July snapshots on the facebook page.
June 23, 2011
Hot coffee in hand. Sunshine. Birds chirping. Not a ripple on the water. A glorious morning at the lake. Camp is slowly waking up. The first boats have motored out into the bay, throttled up and they're off, destination...anglers paradise! Jan is known for its fishing, but even better as a place to get away from it all. Drop a line in the water, sit back and relax.
June 20, 2011
We are glad to say that we are not getting near the rain that the south of the province is getting. Actually it seemed almost too dry up until a few days ago. We have had quite a few days of overcast and a persistent east wind which is rather unusual for Jan. (the predominant wind usually comes from the north). However this has resulted in some pretty good walleye fishing though not where you might expect. Surprisingly Harpers Island is still producing, probably better than the early spring. Even more surprising is the fact that the weeds are already coming out in the bays and the shallows and that is where they seem to be getting the larger walleye.
Record catches this week were a pair of big Northerns. One 20lbs the other 18.7lbs. Check out the facebook page for photos.
Since we bought new motors this year we have a surplus of 2008 and we will be selling those off as well as some of the older lunds. We have added a new page to the site for this purpose. Just click on the For Sale button on the side menu.
As you might expect June is as busy as ever. We can't believe how this community overflows with fishermen and families during this month. We lose track of the days and simply try to get some sleep when it gets dark. So far this has been an outstanding season and we can't believe so many of you have come and gone already. We look forward to seeing all those yet to come.
June 6, 2011
Well it has been an interesting couple of days. Very busy with lots of people here right now. Weather has been all over the place but the fishing has been strong. Notable catches included a 7lb walleye caught down in Harpers and a 25lb Northern caught and released at an "undisclosed location".
Three Lakes Camp was pleased to once again host Wayne Phillips and his crew of poets. We were also very delighted to be part of a ceremony they had honouring one of their group with the most prestigious of awards "the Order of Jan Lake". This was presented to long-time Jan lake veteran Glen Sorestad. Other notable achievements of Mr. Sorestad include the Order of Canada which he received last year.
Weather-wise our hot and dry spell ended last week with a nice rain which effectively lifted the fire ban that had been in place since opening. This was followed by 3 days of very windy, very cold weather. At one point it actually snowed and only the very hearty ventured out only to return frost bitten and wind blown a short while later.
We expected the cold front to be a turn off for the walleye for a couple of days but we were pleasantly surprised when Cole and Braden went out for an evening fish the other night and easily limited out on 19 inch walleye.
Luckily most everybody got some good days of fishing in last week and for those of you coming up this week you are in for some much nicer weather.
May 29, 2011
Well the season is off to a busy start. May long weekend is behind us and we are getting ready for the craziness that is June. Sad to say if you are not booked in already, June is packed. Its great to be seeing everyone again and we are looking forard to seeing everyone yet to come. Fishing has been steady. As usual Harper's island was the hot spot for the Long weekend at times hosting upward of 20 boats at the south end. We saw a lot of walleye, mostly males, out of Harper's but some of the larger fish seem to be coming from the Narrows. Already we are seeing fish being caught in amongst the islands which seems early relative to the ice going out but apparently the fish didn't get the memo.
Weather has been beautiful, maybe too nice as we currently have an open fire ban in place. Should not last very long though as we are having evening showers fairly often. Hope to be seeing everyone really soon.
May 15, 2011
Well, fishing season is open and the ice is pretty much off the bay. It was far enough away to put the docks out anyways. We had put some boats in yesterday and the rest are going in today. The weather has been absolutely beautiful for the last couple of days and we expect the ice on the main lake is going to be pretty soft. (Though we can't quite get there to confirm) Cole and Braden went out in the bay early this morning to join the ranks of the hard core first of the season fishermen. The crowds start arriving on the May long week-end and so starts the madness of spring fishing on Jan. We will let you know when the main lake goes out.
May 12, 2011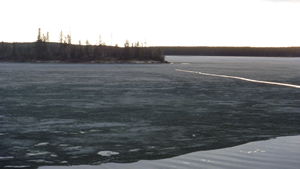 Ice report: We have about 20ft of water around the shore line and a large crack out to Dog Island. You can see that Lou's point is open and there is a lot of open water around the two islands in the bay. The ice itself is quite rotten; very dark and moving with the waves. Overall we could still see the ice off for the first day of fishing (at least the bay) and we are well on track for open water on May long weekend.
Point of interest: Despite the remaining ice, Cam still felt the need to continue his tradition from last year of swimming every day. True to form he was in last night leaving the rest of us cringing on the dock. We will try to post some video on the facebook page.
May 3, 2011
The weather forecast is calling for above 10 degrees C daytime temps all week, rain showers today and tomorrow. Ice is still on the bay, slushy on top but still holding. It measured 27 inches thick April 27th. There is 2 feet of open water along the shoreline. The Mallards are back, as well as a bunch of healthy looking squirrels and wood chucks. A couple of nights ago, we caught a glimpse of the Northern Lights casting their green glow across the sky.
Brenda, Tracy, and Cole have returned for another year to help us out in the housekeeping and dock service departments. Bernie and Tania are lending a hand as always. Braden has also returned to Three Lakes after a 2 year hiatus. He previously worked for the Hawes'. Gary and Darlene will be taking up residence in camp again this spring. If you are interested in getting to know your way around Jan Lake or brushing up on angling techniques, contact us about booking a guide. We offer daily guiding rates and shore lunch packages.
We have had a few cancelations for the spring. The following are a few slots presently available in June if you are looking to book in last minute:
-June 6-8 (3 two-bedroom cabins up the hill)
-June 8-10 (2 two-bedroom waterfront cabins, side-by-side)
-June 12-15 (two-bedroom cabin up the hill)
-June 27-30 (2 two-bedroom waterfront cabins, side-by side)
Only 11 days left till fishing season opens!
April 12, 2011
Well here is an ice report for you. We cut a hole for a temporary pump yesterday only to discover about 3 and a half feet of ice. Add to it the two inches of snow we got today. It is kind of chilly today but the forecast has it warming up steadily all week. Check out the face book page for a few photos.
April 4, 2011
We have a few new updates to the Links page and check out our new facebook page.
March 21, 2011
Well we made it through the Edmonton show. Four days on your feet with a smile on your face can be exhausting but it was a really good time all the same. I must admit that I was impressed with the size of the venue. The boat dealers really pulled out all the stops and showed up with a lot of hardware. I thought there was a really good mix of hunting and fishing as well. As usual the show gave us a good opportunity to catch up with friends and guests from the Edmonton area. We are always glad to see you guys come out.
Big thanks to Doug and Mariette for all their help over the weekend.
We are planning a trip up to the lake in the next couple of weeks to start getting ready. Stay tuned as we will be giving reports on ice conditions and the like.
March 7, 2011
I am sure Ryan and I aren't the only ones getting antsy to return to Jan Lake. Judging from the fantastic response at the Saskatoon Sport & Leisure show last weekend, fishermen from all over the province are getting geared up for the season. Thanks to everyone who stopped by the booth to ask questions or to say "hi"!

Attention Albertans! Come and see us a the Edmonton Boat & Sportsmen's show March 17th to 20th. Whether you are a first-timer or have been vacationing at Jan for years, there's nothing we'd like better than to connect with you and hear your stories.
In other news, we have just received word from the Ministry of Environment Fish and Wildlife Branch regarding changes to opening dates and angling limits. The central zone of the province (Jan Lake) will now have a fixed opening date of May 15th, and the provincial angling limits have been adjusted slightly from what was proposed to 5 pike, 4 walleye and 3 lake trout.
Also we hope everyone is enjoying the new website. It is still a work in progress so if you find any mistakes or errors let us know.
Only 66 days left to fishing season.

January, 2011
Hope everyone enjoyed the holidays. Christmas being the time for friends and family gathering, it is also a popular time for arranging the yearly fishing trip! Don't hesitate to contact us if you have any questions regarding the camp or bookings. We are confirmed to attend both the Saskatoon Sports and Leisure Show, March 3rd to 6th, as well as the Edmonton Boat and Sportsmen's Show March 17th to 20th.
Sure do miss daily happy hour on the big deck…
Happy New Year!
October, 2010
One of the most enjoyable seasons yet… absolutely beautiful weather, awesome fishing, and fantastic company! Record catches included a 28 pound Northern Pike, and a 6 pound Walleye. Super early ice-off in the Spring made for some adventurous angling on Jan, as most of the "regular" hotspots were cold by May. Spawning was over and done with well before opening day, and the fish had moved on. Fishermen were scouting out new holes, with no difficulties in returning home with their limits.
This year our shorelunch kits were a popular item, as many prefer to eat their catch fresh. To pull up on a sun-drenched rock ledge, on your own private island, the only sounds being water lapping, and the odd gull or eagle cry. Build a fire on the rock or use the cookstove we provide to fry up those fillets… is your mouth watering yet?
The camp remained busy through September. We offered 15% off accommodation starting September 6th, and will repeat this deal for the Fall of 2011. Special thanks to our returning guests, and a warm welcome to any newcomers to Three Lakes Camp. We hope to see you all again!
May 5, 2010
THE ICE IS OFF!
We are happy to report, and I am sure many of you will be happy to hear that the ice left Jan Lake April 18th. The main lake is wide open. Jasmine and I have been up since the 23d, and our staff arrived on May 1st. We have been busy finishing projects we started in the fall and getting all the spring chores squared away.
The weather has been beautiful for the last couple of weeks, especially for this time of year. So far we have avoided the last minute snowfalls that Regina and Saskatoon have been experiencing though we have yet to put away the snow shovel just in case.
Fishermen will be interested to know that the water is down, quite significantly, from last year. It is a nice break from what has been a long run of high water years, and we expect fishing to be livelier as a result.
Winter couldn't pass quickly enough, and as we approach the fishing season we are getting more and more excited to see old friends and new. There are still a few cabins available for opening weekend, as well as limited weekday slots in May and June. We are offering 15% off fall fishing in September, call us for details.
It's time to go fishing.
December 12, 2009
Greetings from Ryan and Jasmine,
We are so delighted to be taking over the role of caretakers of such a unique Northern escape with such a rich history. Three Lakes Camp on Jan Lake has played a part in many generations of families who have travelled the miles year after year not only to enjoy the excellent fishing, but also to revel in the beauty of the North. For those that know our story, our history with the camp, and with George and Donna, you can imagine what an awesome homecoming it has been for us, to recognize familiar faces and to renew ties with old friends.
At the same time we recognise the daunting task of filling George and Donna's shoes. We were very grateful for all their help and support for the spring start up and for their continued advice and counsel.
We couldn't have asked for a better season in our first year. We appreciate the continued support of so many long-time guests and welcome newcomers to Three Lakes Camp. Another late spring and slow ice year didn't dampen the enthusiasm of the early bird fishermen. Groups like Dave and family still managed to navigate through the ice flows into the islands to bring back their limit in Walleye. Overall we saw a steady year for fishing; several trophy catches graced our docks. Bill and Pat never seem to leave without their share of giant Northerns, while Frank's 8 pound walleye was the talk of the camp!
Next year fishing season opens on the 22nd of May, providing for a little more assurance that ice will not be such an issue in the early spring. Garry and Darlene are excited about returning next year to fill their roles as guide and fish filleter supreme… Three Lakes Camp wouldn't be complete without their presence. In the spirit of ever improving and preserving the camp we commenced several large projects which included the rebuilding of the retaining wall behind the boat house and removal of the stumps beside the lodge in prep for some longer-term campsites. We are also in the process of reorganizing the store for 2010 and are excited about the new layout. The new year will find us in attendance at both the Denver and the Billings sports shows, January 8th to 10th and January 15th to 17th respectively.
In a season that presented us with many challenges from late ice to lightning strikes we were able to weather the storm and are looking so forward to our second season; we hope to see you all there.